Pathways & Opportunities – Photography
We pride ourselves on providing pathways & opportunities for our members both on and off the court and the Travis Palmieri story about photography is one we are excited to share.
Travis Palmieri is a local teenager who begun playing for the Wildcats three years ago in U14's after swapping from his local club in Epping for more opportunities. Travis also coached Eltham Wildcat Junior Domestic teams in the EDJBA for a couple of years before following his true passion.
"I always had love for art but struggled to get the images in my mind on canvas, so I changed my medium from paints and brushes to light and lenses."
Travis passion for photography started in primary school but discovered sports photography while in isolation in January.
"I got started by buying my first camera with all my fund's saved for my first car off marketplace and shooting my first event in the 2022 Eltham Dandenong Junior Basketball Tournament, from there I grew my skills and love for photography blossomed."
and I started shooting for major teams like the Australian Boomers and Manchester United."
After shooting for the Wildcats at the EDJBT, Palmieri began taking photos for the Eltham Wildcats NBL1 games this year. Not only did he attend home games but also travelled to Sandringham, Ballarat and even Mt Gambier to capture incredible moments throughout the 2022 season.
"What I love the most about photography is shooting for the NBL1, as I get to experience basketball through another perspective. Seeing the game through the lens gives me another appreciation for the game, knowing that I captured that famous Josh [Sykes] dunk or the cheekiness from Mitch [Dance], and the flair from the likes of K.C [Korinne Campbell], Pizzey [Rebecca Pizzey] and all the others gives me the biggest thrill of all," said Palmieri.
This passion then progressed to opportunities to capture the Australian Boomers in the World Cup qualifiers and Manchester United who played Melbourne Victory in a practice game at the MCG in July.
His passion, drive and effort were also influential to our NBL1 teams with nothing but high praise coming from NBL1 American Import Josh Sykes.
"My man Trav has the best photos in Australia. I love his work and he's the best and the youngest to do it. Keep growing young man and thank you."
Mitch Dance also from our NBL1 Men's team echoed Sykes sentiments.
"Thank you, Travis for your hard work this NBL1 season. You were amazing coming to every game to capture the sporting moments of the Wildcats. Looking forward to what's ahead for you and I wish you all the best."
Check out his top 10 photos from the 2022 season below.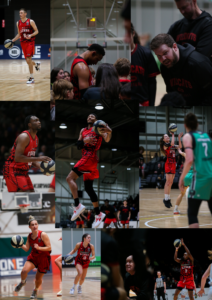 Travis continues to follow his passion with career aspirations to work for a professional sporting team as their photographer and grow his knowledge and skills in the industry. We recommend you check out his work via his Instagram page @traviphotography or shoot him an email at traviphotography@outlook.com if you or someone you know is in need of a photographer.